There are two starter decks for Star Wars Unlimited. You can already find them on the website here:
An important note here is that some cards, like the leaders, are only available through the starter decks. You won't be able to pull them through normal packs. Time to take a look at the decks.
Luke Skywalker starter deck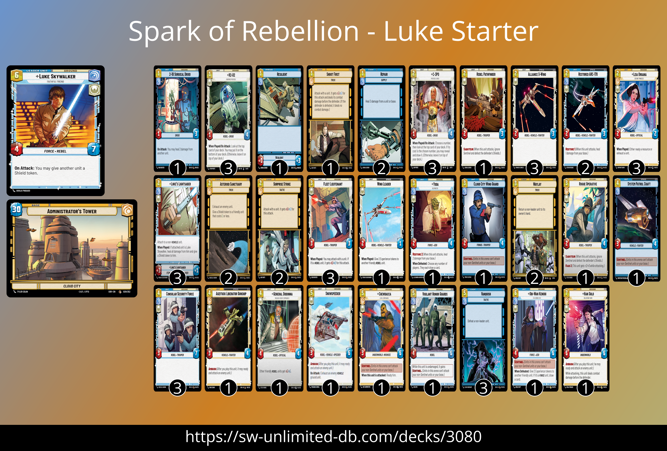 The Luke Skywalker starter deck is a Vigilance, Heroism & Cunning deck. Most of its units are rebels units which are then able to be buffed by General Dodonna. It also has a bit of card draw through Yoda, C-3PO and Obi-Wan Kenobi, but you should be able to keep your hand fairly filled with a good curve.
The main game plan is using your Rebel synergies in order to get to the board and do favorable traits. While this deck does have some high cost units, they don't really win you the game on the spot. You are mostly trying to play a tempo game.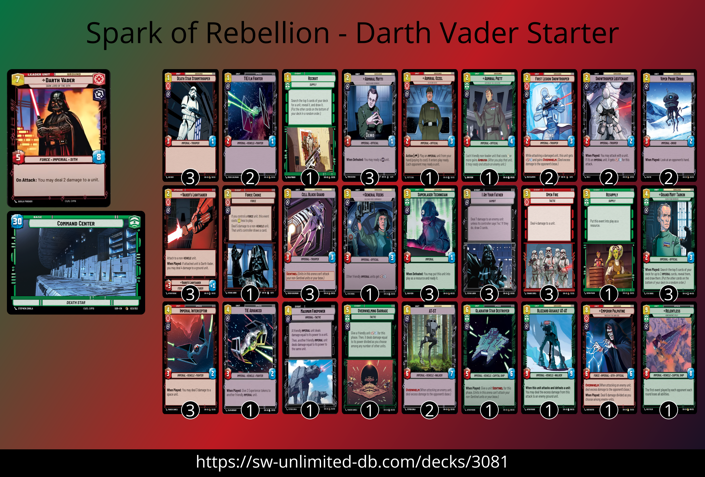 The Darth Vader starter deck is an Aggression, Villainy & Command deck. This deck will play very different from the Luke deck. This deck does have some strong early plays and could go aggresive with some of the Imperial synergies, but it also has a ramp package in order to get some of your big cards in there, together with your leader Darth Vader of course.
Darth Vader is a very strong leader to get on the field. Being able to deal 2 damage whenever attacking is huge, so using your ramp to get him out earlier is important. Though, do make sure that you have some units to keep the eraly aggression at bay. If you are able to get to your big units like Blizzard Assault AT-AT and you still have a good life total, you'll most likely be able to take down anything that your opponent throws at you.
And that is how the starter decks play. I hope you enjoyed this small article about them and I hope you give them a try to see if you enjoy the game.
Till next time!